Web Tracker & Infusionsoft Shopping Cart
This article covers integrating Graphly's Web Tracker with the Infusionsoft Shopping Cart.
First you'll need to get the tracking script for the Infusionsoft Shopping Cart. In Graphly, click on the "Gear" icon" and select "Web Tracking" from the dropdown menu.

Once you've made an account, hover over it and click on the "view script icon".

Click on the "cart code button" in the top right of the script box to make the correct script appear.

Copy this script and head over to Infusionsoft. In Infusionsoft, click on the "Navigator" and head to E-Commerce Setup.

From there, get to the Shopping Cart Theme you wish to add the tracking script to.

Click on the "HTML Areas" tab.

You can paste the script into either the Custom Header or Footer box. I will do it in the Footer after any code related to the design or content of the shopping cart.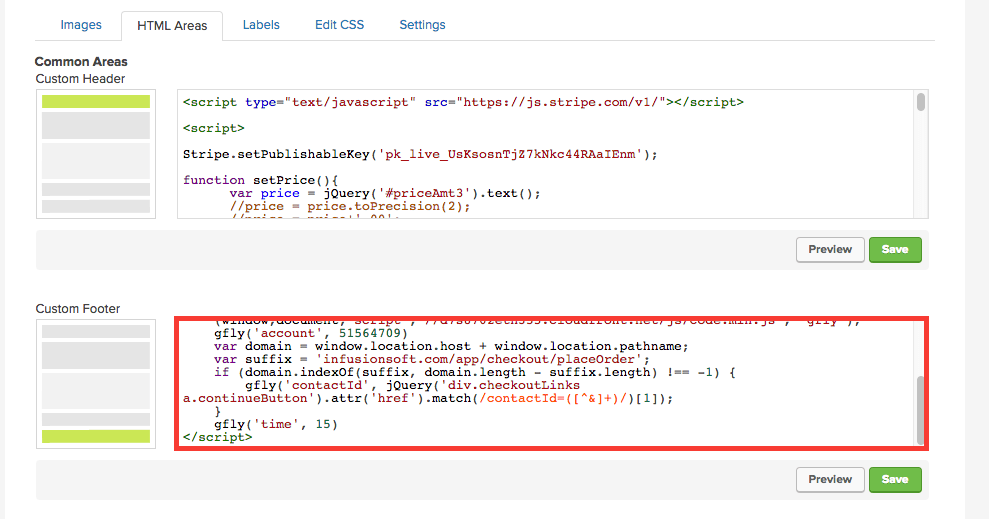 Then click on the "Save" button for that area.

Now go to the "settings" tab.

The best practice here is to use the Thank You URL, but the Finished Shopping url will also work. If you are using the Thank You url, make sure you've included the Graphly Web Tracking Script in the head tag of the page you're redirecting to.