WARNING: 50% Of Your Marketing Dollars Are Wasted
New 'Web Tracker' Technology Reveals Which 50% And What To Do About It
Web Tracker Integrates with Your Favorite
Website Frameworks and Landing Page Platforms

Traffic Has Never Looked So Good,
And It's Never Been This Easy To Understand.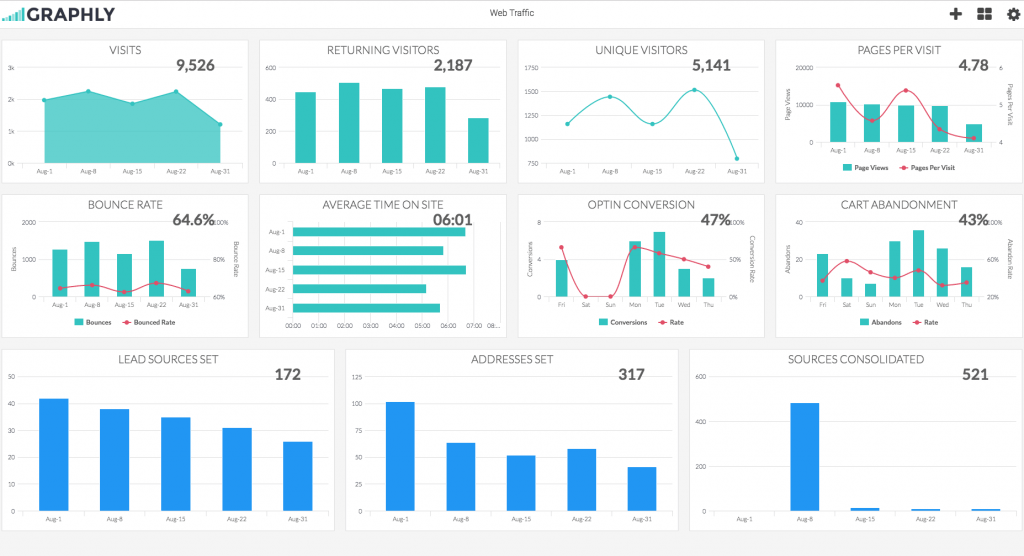 Web Tracker Comes With Everything But The Kitchen Sink
"It's a marketer's dream come true and a salesperson's best friend"
Copy & Paste Script
Simply copy your unique tracking script and paste it into the scripts area of your website or landing page (same place you have Google Analytics embedded). Embed this once and never worry about it again.
Proprietary URL Builder
Generate unique tracking links for ads, emails and social posts with properly formatted UTM variables. Previous values are remembered so you can quickly produce new tracking links and easily measure click performance.
Dynamic Lead Source
Dynamically set the lead source on new contact records. You'll never have to guess where a lead came from again, or where to go to find more leads like it.
GeoIP Capture
Set the city, state, postal code and country fields. We feed the visitor's IP address to a paid lookup service that returns the most accurate and up to date information possible.
Platform Compatible
Integrate Web Tracker with your website framework or landing page platform. We've personally tested 15+ solutions to make sure our tracking works flawlessly with the best and most popular solutions out there.
Lossless Tracking
Track visitors as they move through the customer lifecycle on varying platforms and devices. Capture a lead from a mobile Facebook ad and then accurately attribute the sale from a desktop email for the same contact.
Lead Source Organization
The 'Field Consolidator' keeps fields (i.e. lead source) clean and organized by giving you the ability to create parent-child relationships. Graphly then uses your logic to update the field value to the parent value.
Web Reports
Track your most important web KPI's: Visits, Unique Visitors, Returning Visitors, Bounce Rate, Average Time on Site and much more. Graphly also reports on Web Tracker actions: Lead Sources Set, Addresses Set, etc.
Page Conversion
Measure the performance of any page on your website. See the visits, conversions (thank you page visits) and overall conversion rate. Leverage these numbers to exponentially grow your business by focusing on just 4-5 pages.
Contact Identification
See the contact information of prospects and customers who visit and interact with our website. No more anonymous web data. No who is on your site, the pages their visiting, for how long so you can sell the hottest prospects.
Cart Abandonment
Want to know how many people are making it to your cart and then leaving with out buying? How would you like to know who they are?
Stealth Links
Deploy Stealth Links that remove UTM parameters on page load so that customers and competitors can't see them in the query string.
Documentation
Like all other Graphly features, the Web Tracker is documented inside and out. The do-it-yourselfers will love our 25+ videos and step-by-step articles.
World Class Support
We are here to help you succeed. Call or chat us during business hours – email us at anytime. We also have DFY service packages if you're short on time or technical abilities.
Frequently Asked Questions
Is Web Tracker right for me?
Web Tracker is right for anyone who has a website, period. Beyond that, if you have web forms, order forms or an online shopping cart, you shouldn't keep doing business with out it.
Tracking the origin and attribution of your leads is the foundation of growing a profitable business. You will finally know which marketing activities are making you money and which ones are actually costing you money.
What are the technical requirements?
There are very few requirements to integrate Web Tracker. Want to know 100% it'll work before you get started? Here are the three things you need:
1) A Graphly Professional Plan or higher.
2) A Website that allows JavaScript to be added to it.
3) A Form that redirects to a CRM-hosted thank you page or a thank you page hosted on your website.
What about custom fields?
Other tracking solutions often require you to create 6 custom fields and include those fields on every single web form. If you're short on custom fields due to the 100 field limit or you just loath the idea of having to update all of your existing web forms with 6 custom fields (and also do so on every new form you create), fear not! We built our solution to record and store the data for you; streamlining the implementation process for everyone.
Anything else I should know?
Proper tracking, especially on the front end of the customer lifecycle when events like 'setting the lead source' occurs, is the key to accurate data through out the rest of your funnel. Graphly allows you to filter reports by domain or path visited, lead source, campaign, medium, content, term, length of visit or any data from both standard and custom contact fields.
Still want to know more? Read the blog post.