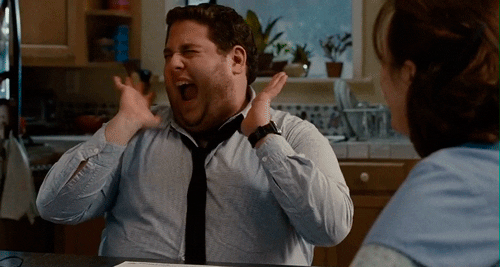 Before I dive into the details I first want to give a huge shout out to those who participated in our beta group. You know who you are. Thank you for your time and valuable feedback.
Web Tracker (Why We Built It)
If you've used Graphly for any length of time, you're familiar with our criteria builder.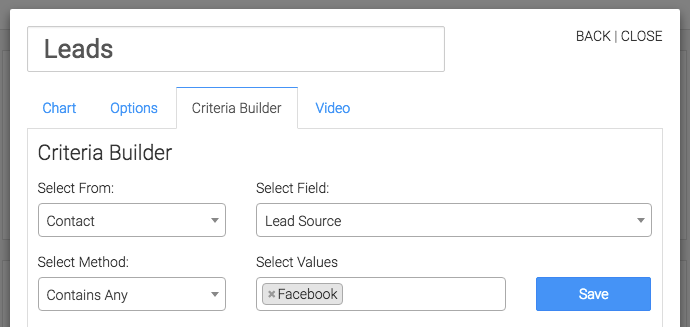 One of the easiest yet most powerful ways to utilize this feature, is to build multiple widgets for the same report template, filtering by lead source. Reports that come to mind are Tag Funnel, Days Between Tags, Value Per Lead, Value Per Customer, Lifetime Value, RFM and truthfully many others.
Why would you do this? Because lead sources are definitely not created equal. While knowing your overall Lifetime Value is good, knowing your LTV from Facebook, your LTV from Google, your LTV from (fill in the blank) is much better. If one source produces a $500 LTV and another source produces a $5000 LTV, where are you going to allocate your advertising dollars?
And then it hit us…
While Graphly was designed to help you identify your best sources for prospects and customers, the data is only as valuable as it is accurate, and it's accuracy somewhat relies on Keap. Sadly what we came to find is that for most users, the accuracy of the lead source value stored on the Keap contact record was sporadic at best. Roughly speaking, Keap sets the lead source about 50% of the time. On those occasions it may set the lead source correctly about 25% of the time.
I don't know about you, but when I'm spending money, I'm hoping for something more accurate than 1 in 8. In the end we concluded that any reporting tool worth its salt would include functionality to accurately capture, store and utilize dynamic lead source information. While there have been a few attempts in the Keap space to address the accurate setting of lead sources, we couldn't bring ourselves to recommend yet another paid subscription to achieve something we knew was fairly easy to pull off.
At least we thought it was easy at the beginning…and perhaps if we had just stuck to setting lead sources, it would have been. But…
Web Tracker (What It Evolved Into)
First things first, let's stack the cards in our favor. The more frequently we can pass the lead source value in the query string of the links we use in ads, emails and social media posts, the less guess work Web Tracker has to do. After becoming more disciplined in using tracking links in our own marketing that contained proper UTM variables, we realized there's was an opportunity for improving and streamlining the process for our customers.
Hence the creation of our proprietary URL Builder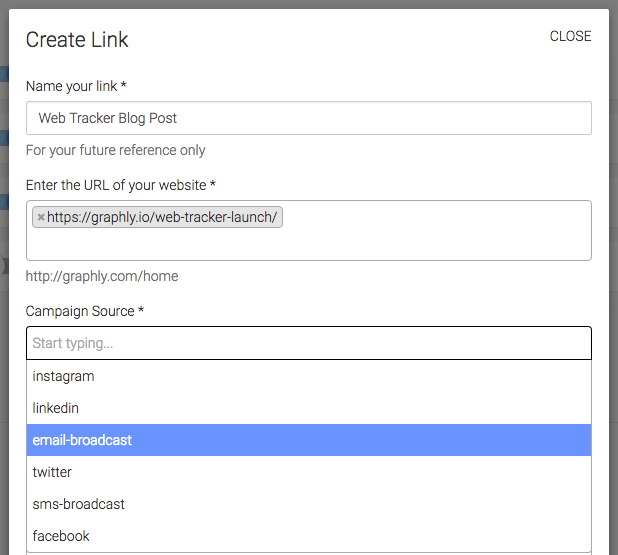 Graphly's URL Builder remembers all previously entered values which really speeds up the process when generating new links, and helps multiple users maintain a consistent naming structure for the values they use for source, . So now we're hard coding the lead source along with all of the other UTM variables on as many links as we possibly can.
After testing our initial version internally, we realized that we had a lot of historical data that needed cleaning up in order to be of any use. We also discovered that a lot of miscellaneous values still trickle in form organic sources for various reasons, that need to be organized or even recategorized.
That's why we built the Field Consolidator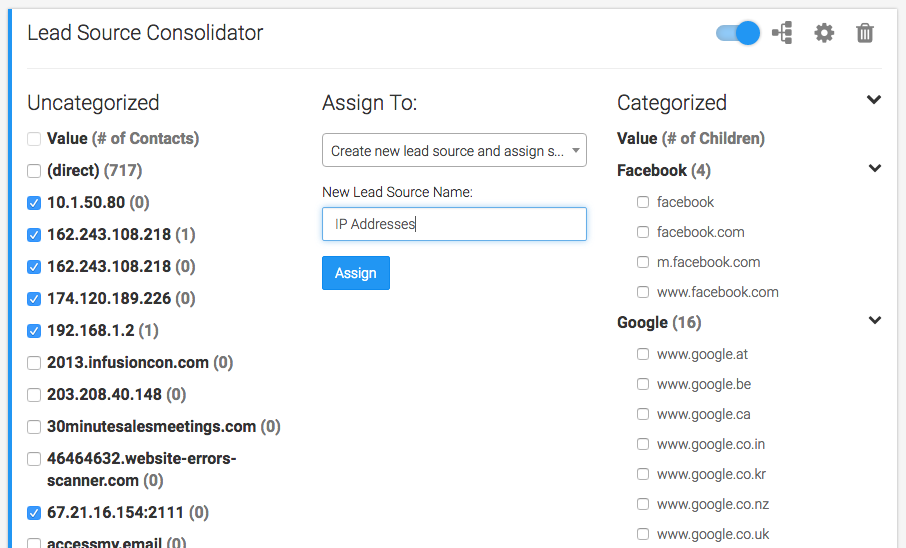 Graphly's Field Consolidator allows users to predetermine parent-child relationships that dictate the reassigning of the value stored in a field (lead source field being the most common). For example: the lead sources of m.facebook, facebook.com, fb.co or mobile.facebook.com would all become Facebook. This consolidation takes place nightly and includes the addition of a note on the contact record containing the original value so that data is never lost.
At this point, we were thinking what we had built was pretty slick but we still weren't content. There was more data we wanted to collect as part of our own marketing efforts. We decided to partner up with one of the leading paid services in the IP Address Lookup space. This allows us to supply them with the IP Address we capture and then they return a bunch of values related to the GEO Location of the IP. We then use those values to update the contact record in Keap. So a web form that has just a single field on it, like email address, will result in a contact record that's populated with the email address, city, state, postal code and country.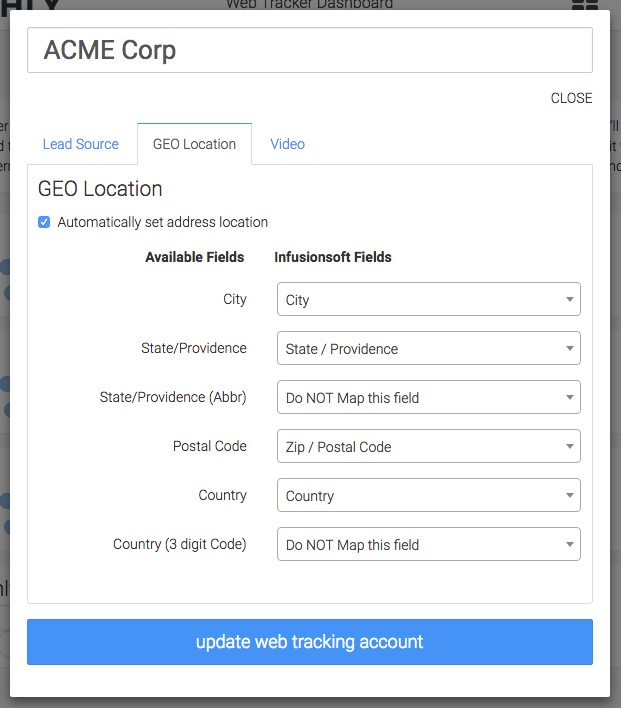 From there we wanted to see beyond just the source of a visitors relationship with us. And having a script that loaded on every page allowed us to do just that. We expanded the technology we originally developed to be able to track visitors on an ongoing basis. In addition to identifying the origin of a visitor, we are now able to attribute additional actions to an optin or purchase. It may have been Google Adwords that introduced a prospect to our brand, but it was a Facebook retargeting ad that caused the prospect to purchase a product from our site. In this case, isn't it valuable to know both the lead source and the second touch that influenced the sale?
From CRM Reports To Web Reports
At this point, we're on the cusp of web analytics. We knew we could produce reports for all of the web data we were storing, but we asked ourselves if it would make more sense to write an integration with Google Analytics. As we reflected on our marketing agency and the years of building websites for other businesses, the answer quickly became clear to us. 90% of our customers found Google Analytics to be cumbersome, overwhelming and for whatever reason it seemed out of their way to check.
This experience coupled with our vision for the future of Graphly (more on that in the coming 60 days), we decided to produce web reports our customers could add to the dashboards they're already checking on a daily basis. Not only have we simplified web analytics, we've removed the anonymity. On any of our web tracker reports, you can click a data point and see a list of contacts who have visited your site, a specific page, for a specific amount of time, you name it. Going down this path has laid an incredible foundation for future functionality in Graphly.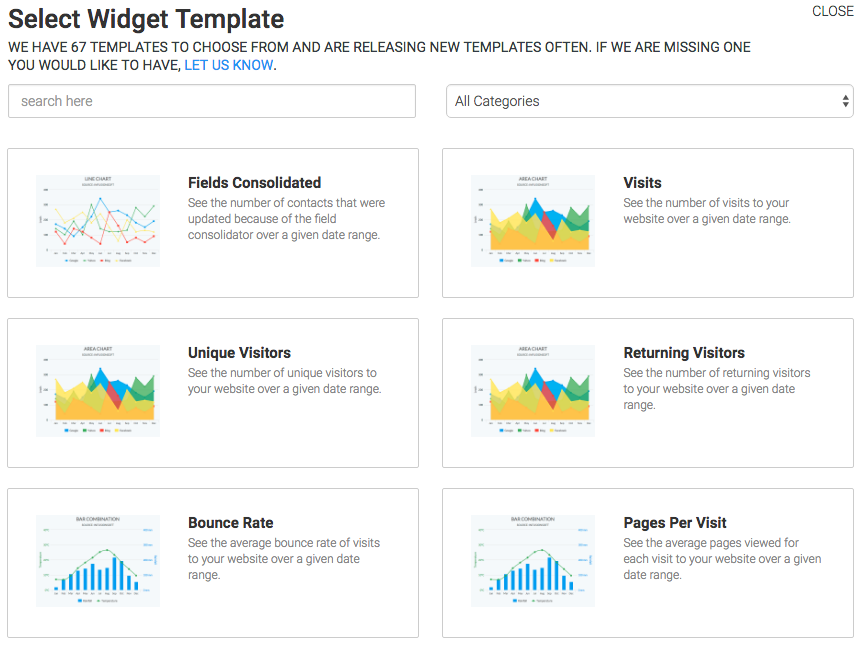 Want to see the conversion of your landing page? Wish you knew your cart abandonment rate? How about seeing a list of contacts made it to the check out page and then bounced? Yup, it's all possible with Web Tracker. This data will be dangerous (in a good way) in the hands of marketers and sales people alike. To see a list of the web reports we're launching with, log in to your Graphly account now. We've already identified many others that we plan to develop, but we'd appreciate your feedback on what else you'd like to see when it comes to web analytics.
Web Tracker (The Video Explanation)
Whether you've scrolled and skimmed this article because reading isn't your thing, or if you've truly made it this far in the post and still want to know more, check out the video we produced to explain our new Web Tracker: