Step 1: Download the Extension
First, to be able to view Graphly inside of your Infusionsoft account you'll need to download the Graphly extension/plugin for your desired browser.  Click Here to see the instructions on downloading the extension/plugin. If you have already done this go to the next step.
Step 2: View Graphly in Infusionsoft
Add /graphly to the end of your Infusionsoft URL once you are already signed into Infusionsoft. See the example URL in the image below. The data that you configured in Graphly will show immediately. You might notice that the Graphs are already on your homepage when you log in.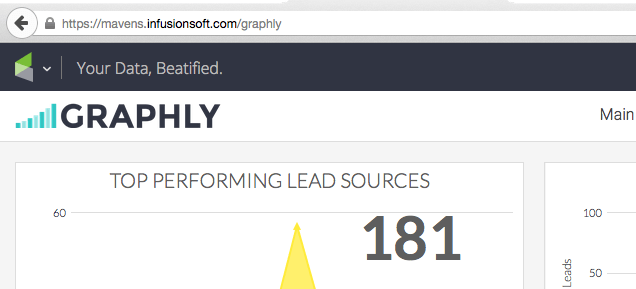 Step 3: Set Graphly as your Homepage
Graphly should automatically be added as the homepage in your Infusionsoft account. If Graphly is not already set as your homepage and you wish to have graphly as your Infusionsoft homepage Click Here to see how.
Notice: If you see the words "Page Not Found" Click Here to troubleshoot the issue.
Relevant Articles
If you don't already have a Graphly account, you can sign up for free here to get powerful Infusionsoft reporting.